In Oregon, the law states that all children under 40 lbs must be in a child safety seat while riding in cars. Children between 40-80 lbs must be restrained by a booster seat, and those over 80 lbs can use an adult safety belt with lap and shoulder restraints. Failure to comply with these laws can result in fines for parents or guardians of up to $250 as well as potential jail time.
Oregon has strict child booster seat laws, which require that all children under the age of 8 must be in an appropriate car or booster seat while riding in a vehicle. The law also requires that such seats meet current federal safety standards and are properly secured by either a lap belt or shoulder harness system. To ensure maximum safety for your child, it is important to read the manufacturer's instructions carefully when installing any type of car seat and make sure that it fits your specific vehicle correctly.

Failure to follow these guidelines can result in hefty fines and possible jail time for drivers who do not comply with Oregon's booster seat laws.
What is the Weight Requirement for a Booster Seat in Oregon?
In Oregon, the weight requirement for a booster seat is 40 lbs. The child must also be at least 4 years old before they can transition out of using a booster seat. In addition to the age and weight requirements, children who are using a booster seat in Oregon must meet height and shoulder belt fitment criteria as well; the shoulder belt should cross firmly between the chest and neck without going up towards their face or down towards their stomach.

It's important to ensure that your child meets these conditions so that they stay safe while riding in your vehicle.
What is the Age And Weight for a Child to Be in a Booster Seat?
The age and weight requirements for a child to use a booster seat will vary by state. In most states, children must be at least 4 years old and weigh between 40-80 pounds before they can transition out of a car seat into a booster seat. It is important to note that even when your child has reached the required age or weight limit, they should remain in their booster seat until the vehicle's safety belt fits them properly.

This means that the lap belt should fit low across their hips and lay flat against their thighs; while the shoulder belt should fit snugly across their chest without crossing over their neck or face.
What Weight And Height Can a Child Be Out of a Booster Seat?
It is recommended that children remain in a booster seat until they are at least 4 feet 9 inches tall, and weigh between 80-100 pounds.
Additionally, the National Highway Traffic Safety Administration (NHTSA) recommends keeping kids in their booster seats until they have reached the upper limit of the manufacturer's weight and height recommendations for their particular car seat or booster model.
This means that some children may need to stay in a booster seat even after reaching age 8 or 9.
When Can Kids Be Out of a Car Seat in Oregon?
In Oregon, children must remain in a car seat until they are at least 8 years old or 4'9" tall. Once the child has reached either of these milestones, they may be out of their car seat and use just a lap-shoulder belt. It is important to note that Booster Seats must still be used for any child who does not meet the minimum height requirement (57 inches) or weight requirements (80 lbs).

Additionally, all passengers under the age of 18 must wear a safety belt while riding in any vehicle regardless if it is equipped with an airbag or not.
State of Oregon Car Seat Laws 2022 & Booster Seat Rules
Backless Booster Seat Laws Oregon
In Oregon, children must be at least 4 years old and weigh 40 lbs or more to use a backless booster seat. Children who have outgrown their forward-facing car seats are ready for a booster seat and should use one until they reach the height of 57" or 8 years old, whichever comes first. All children under age 8 must also ride in the backseat while using any type of car seat.
Oregon Car Seat Laws Rear-Facing
In Oregon, all children under the age of two must be secured in a rear-facing car seat that meets federal safety standards. The child should remain in a rear-facing seat until they reach the maximum weight and height limits set by the manufacturer of their car seat.
Additionally, it is recommended that children stay rear-facing for as long as possible to provide optimal protection during an accident or sudden stop.
Child in Front Seat Law
In the United States, most states have laws that require children to be properly secured in a car seat while riding in a vehicle. The age of the child, as well as their height and weight, determine which type of car seat is needed. In general, all children under 12 years old must ride in the back seat with an appropriate car seat or booster for their size.

Additionally, many states have specific laws about when it's safe for a child to sit in the front passenger seat; typically this is only allowed when they reach at least 8 years of age and are at least 4'9″ tall.
Oregon Front Seat Law
Oregon's Front Seat Law requires that all passengers in the front seat of a vehicle, regardless of age, must wear a seat belt. This law applies to any passenger riding in the front seats of cars, trucks, vans and SUVs when they are on public roads or highways. Additionally, Oregon has stricter requirements for children under 16 years old; they must be properly restrained by either an approved car safety seat or booster seat depending on their age and size.
Oregon Seat Belt Law History
Oregon was the first state to enact a seat belt law in 1971. The law required all front-seat occupants of passenger vehicles and trucks to wear safety belts while driving or riding in a vehicle. This groundbreaking law set an important precedent for the rest of the country, as similar laws have been adopted nationwide since then.

In 1985, Oregon passed another law that required children under four feet nine inches tall to use child car seats or booster seats when traveling in motor vehicles. Today, both adults and children are legally obligated to buckle up before hitting the roads!
How Much Do You Have to Weigh to Sit in the Front Seat in Oregon?
In Oregon, it is legal to sit in the front seat of a vehicle as long as you weigh more than 100 pounds. Drivers and passengers must also be tall enough to use the safety belts correctly and have their feet on the floor or footrest while traveling.
Additionally, children under 12 years old are not permitted to ride in the front seat, even if they meet these weight requirements.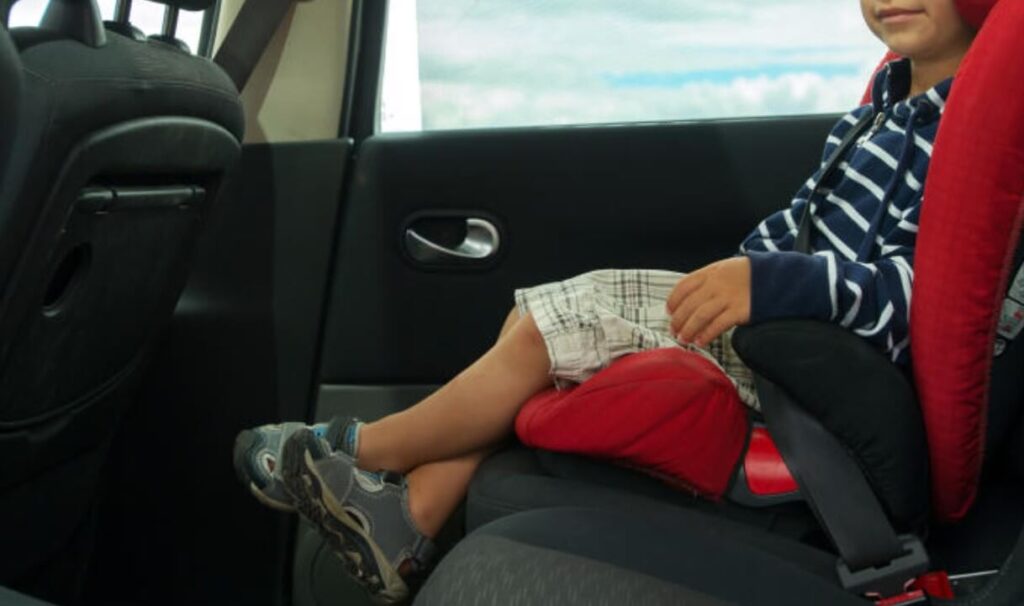 Washington Booster Seat Laws
In Washington, children must ride in a car seat or booster seat until they are 8 years old and 4 feet 9 inches tall. Booster seats must meet federal safety standards and be appropriate for the child's weight, height, and age. Additionally, all passengers under 13 years of age must use a seatbelt at all times while riding in a vehicle.
Oregon Booster Seat Law 2022
Oregon's booster seat law is set to change in 2022, requiring children under the age of 8 to ride in a booster seat while riding in a car. The new law also requires that all children between the ages of 8 and 12 must be properly restrained by an appropriate child passenger restraint system, such as a belt-positioning booster seat or harnessed child safety seat. This legislation is aimed at ensuring that all young passengers are kept safe on the roadways.
Conclusion
In conclusion, Oregon's child booster seat laws are an important part of keeping children safe on the roads. It is essential for parents and guardians to understand these laws so that they can keep their children secure in a booster seat whenever they travel in a vehicle. In addition, it is important to make sure the booster seat being used meets all safety standards and has been properly installed.

By following these guidelines and ensuring compliance with state law, parents can help ensure their child's safety while traveling in Oregon.