Welcome to "What Bucket Seats Fit C10? Your Ultimate Guide." If you're a proud owner of a Chevrolet C10 pickup truck and you're looking to upgrade or replace your seats, you've come to the right place.
There are many different types of bucket seats that can fit a C10. Some common options include racing-style buckets, sport buckets, and luxury buckets. Each type of seat has its own set of dimensions that must be met in order for it to fit properly in the C10.

Many aftermarket companies make seats specifically for the C10, so there are many options to choose from. It is important to make sure that the seat you select will fit your specific C10 model year and trim level.
In this comprehensive guide, we'll take you through the ins and outs of selecting the perfect bucket seats for your C10, ensuring both style and comfort meet the needs of your classic ride. Whether you're aiming for a restoration project or simply seeking an upgrade, we've got you covered with expert insights and top recommendations.
Let's dive in and find the perfect fit for your C10!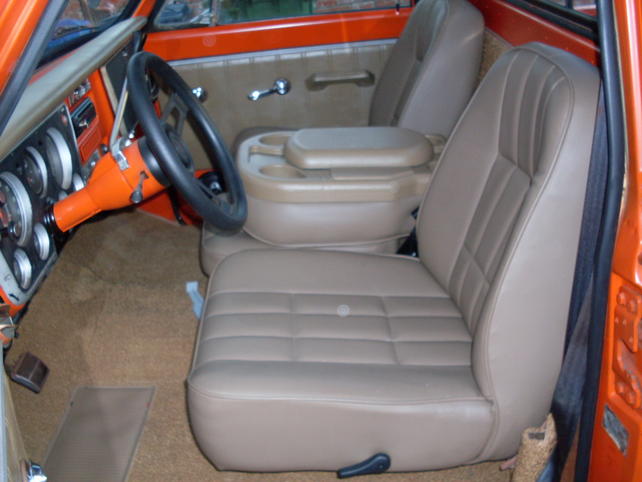 Bucket Seats for Square Body Chevy
Bucket Seats for Square Body Chevy" is a topic that pertains to the installation or replacement of bucket seats in Chevrolet trucks that belong to the "Square Body" era of Chevy pickups. The term "Square Body" refers to a specific generation of Chevrolet trucks, primarily produced from the late 1970s to the late 1980s.
These trucks are known for their boxy, angular body designs, which are distinct from earlier and later Chevy truck generations.
When discussing "Bucket Seats for Square Body Chevy," it typically involves the following aspects:
Upgrading Seating: Many Square Body Chevy truck owners may consider replacing their existing bench seats or worn-out seats with more modern and comfortable bucket seats. Bucket seats offer better support and a sportier look.
Compatibility: Finding bucket seats that are compatible with Square Body Chevy trucks is crucial. The seats need to fit the truck's interior dimensions and mounting points. This often involves understanding the specific model and year of the Square Body Chevy in question.
Style and Comfort: Choosing the right bucket seats involves considering factors like style, material (e.g., cloth, vinyl, leather), color, and additional features (e.g., lumbar support, heating). It's important to strike a balance between aesthetics and comfort.
Installation: Installing bucket seats may require modifications to the truck's interior, such as altering the seat mounts or brackets. Some enthusiasts may opt for professional installation, while others with mechanical skills may tackle it as a DIY project.
Safety and Regulations: When upgrading seats, it's essential to ensure that the installation complies with safety regulations, such as proper seatbelt mounting and restraint systems.
In summary, "Bucket Seats for Square Body Chevy" explores the process of selecting, installing, and customizing bucket seats in classic Chevrolet trucks from the Square Body generation. It's a topic of interest for truck enthusiasts seeking to improve both the style and comfort of their vintage Chevy pickups.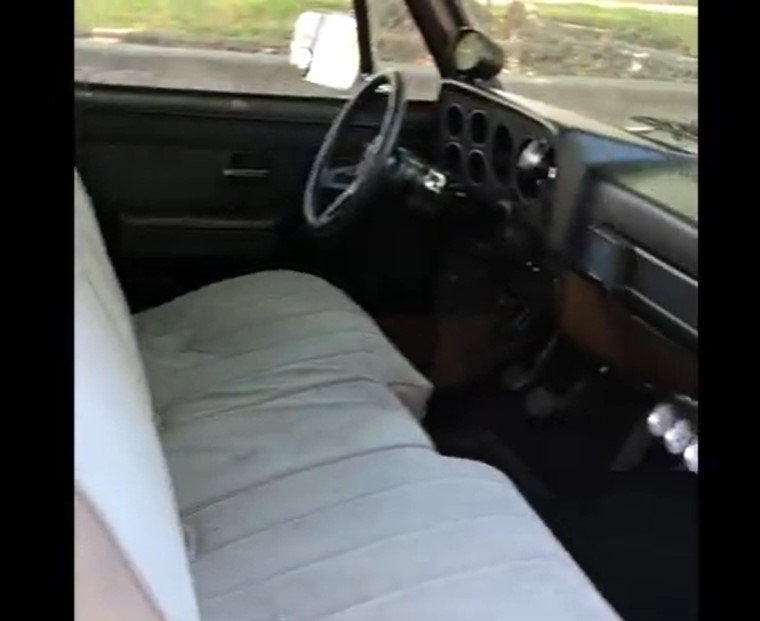 What Bucket Seats Fit C10?
Finding the right bucket seats that fit a Chevrolet C10 can be a bit of a challenge due to variations in model years and individual preferences. However, there are several popular bucket seat options that are often used in C10 trucks, and compatibility can depend on factors like the C10's specific model year, interior dimensions, and desired features.
Here are some common bucket seat options that are often considered for Chevrolet C10 trucks:
GM A-Body Bucket Seats: Seats from GM A-Body cars like the Chevelle or GTO can be adapted to fit C10 trucks. They offer a classic and comfortable option.
Aftermarket Seats: Many companies produce aftermarket bucket seats designed to fit various vehicle models. Some of these seats may have adjustable brackets to accommodate different vehicles, including C10 trucks.
OEM Replacement Seats: Some companies manufacture replacement seats designed to be a direct fit for C10 trucks. These seats are often crafted to match the original look and style.
Custom Upholstery: Some C10 enthusiasts choose to customize their existing seats with aftermarket upholstery to achieve the bucket seat look while retaining the original frames.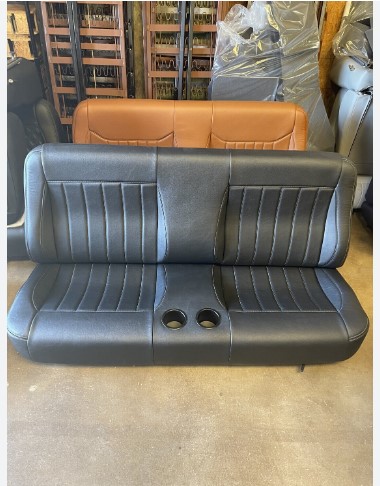 When selecting bucket seats for your C10, consider the following factors:
Compatibility: Ensure the seats are compatible with your specific C10 model year. Measurements and mounting points may vary.
Style: Choose a style that matches your truck's aesthetics and your personal preferences.
Comfort: Consider features like cushioning, lumbar support, and adjustability for added comfort.
Material: Decide on the upholstery material (e.g., vinyl, cloth, leather) that suits your needs and preferences.
Budget: Bucket seats can vary widely in price, so establish a budget that aligns with your project.
Before purchasing bucket seats, it's advisable to consult with experts or a professional installer who is experienced with C10s to ensure the seats will fit properly and meet your expectations in terms of style, comfort, and safety.
Additionally, check local regulations to ensure your seat installation complies with safety standards.
73-87 Chevy Bucket Seats for Sale
Looking for a set of Chevy bucket seats to add some style and comfort to your ride? You're in luck—we've got a great selection of 73-87 Chevy bucket seats for sale! These seats are the perfect way to upgrade your classic car or truck, and they'll make any long road trip more enjoyable.

Plus, with our low prices, you can afford to outfit your entire vehicle with new seats! So take a look at our selection and find the perfect set of bucket seats for your Chevy today.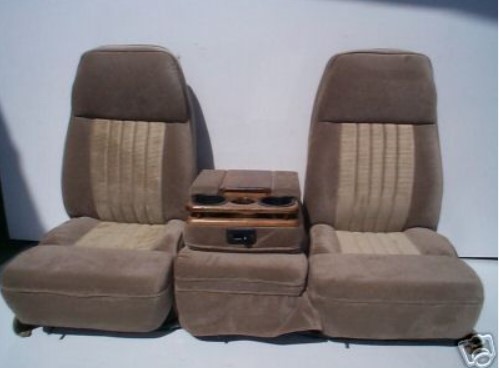 Best Bucket Seats for C10
C10 trucks are some of the most popular vehicles on the road, and for good reason. They're stylish, reliable, and comfortable, making them a great choice for any driver. But when it comes to choosing the right bucket seat for your C10, there are a few things you need to keep in mind.

First and foremost, you need to make sure that the bucket seat you select is compatible with your C10's interior. There are a variety of different seats on the market, so it's important to find one that will fit well in your truck. You also need to consider the material of the seat.

Leather is a popular choice for many drivers because it's both comfortable and stylish. However, cloth seats are also an option if you're looking for something more budget-friendly. Once you've decided on the perfect seat for your C10, it's time to install it!

Installing a bucket seat is relatively simple, but there are a few things you need to keep in mind. First, be sure to follow all the instructions that come with your seat. Secondly, be careful not to damage your truck's interior while installing the seat.

And finally, once everything is installed correctly, take your C10 out for a spin and enjoy your new bucket seat!
C10 Bucket Seat Conversion
The C10 is a full-size Chevrolet pickup truck that was produced from 1960 to 1998. The truck was available in a wide range of configurations, including two-wheel drive and four-wheel drive, short bed and long bed, and six different engine options. One popular option for the C10 was bucket seats, which added more comfort and style to the interior of the truck.

Bucket seats were not available on all models of the C10; they were an optional upgrade that could be added to certain models.
The cost of adding bucket seats to a C10 varied depending on the year and model of the truck, but it was typically around $200–$300. Bucket seats were popular among C10 owners because they provided a more comfortable and stylish ride than the standard bench seat.

If you're thinking about converting your C10 from a bench seat to bucket seats, there are a few things you'll need to do.
First, you'll need to find a set of bucket seats that fit your truck. There are many types of aftermarket bucket seats available, so make sure you take your time to find a set that's comfortable and looks good in your truck.

Once you have your new seats, you'll need to install them using brackets or adapters. Installing bucket seats is not difficult, but it's always best to consult with a professional if you're unsure about how to do it. Converting your C10 from a bench seat to bucket seats is a great way to improve the look and feel of your truck.

With some careful shopping, you can find a set of high-quality aftermarket bucket seats that will provide years of comfort and style.
Square Body Seat Compatibility
If you're looking to upgrade your seats in a square-body Chevy, you're in luck! There are many options available that are compatible with these trucks. You can choose from cloth or leather, bench or bucket seats, and even heated seats if you want.

There are a few things to keep in mind when selecting new seats for your square-body Chevy.
First, make sure to measure the width of the seat opening to ensure a good fit.
Second, pay attention to the height of the seat back; you'll want something that provides good support without being too tall.
Finally, take into account any special features, like lumbar support or headrests, that you might want.
With so many great options available, there's no reason not to upgrade your seats in a square body Chevy!
Square Body Bench Seat Swap
If you're looking to upgrade the bench seat in your Square Body Chevy, there are a few things you need to know.
First off, what year is your truck? The seats from 73–87 are interchangeable, but 88–91 seats will not fit in earlier trucks.

Secondly, what size bench seat do you need?
There are three options: 60/40 split, 40/20/40 split, and a single seat.
Choose wisely, as the 60/40 and 40/20/40 seats have different tracks and won't work with each other.

Once you've decided on which seat you require, it's time to start shopping around. The best place to find Square Body bench seats is at a junkyard; they're usually in good condition and much cheaper than buying new seats. If you can't find any at a junkyard near you, check out online classifieds or eBay.

Be sure to inspect the seats carefully before making a purchase; look for rips, tears, or stains that could be difficult to clean. Installing new bench seats is relatively easy; just remove the old ones (4 bolts for 60/40 seats, 6 bolts for 40/20/40) and bolt in the new ones using the same holes.
However, if your truck didn't come with factory bucket seats, you'll need to drill some new mounting holes.

Once everything is bolted down tight, enjoy your upgraded Square Body Chevy!
Do Any Bucket Seats Fit Any Car?
Bucket seats are designed to fit a specific car model. In order to ensure that the seat will fit properly and be comfortable, it is important to choose a seat that is specifically designed for the make and model of your car.
There are a few aftermarket companies that produce seats that are universal in fit, but they may not offer the same level of comfort or support as a seat that is made specifically for your car.
Are the Silverado and C10 the same?
The Silverado and the C10 are two different models of Chevy trucks. The Silverado is a full-size truck, while the C10 is a half-ton truck. Both trucks have different engine options and different trim levels.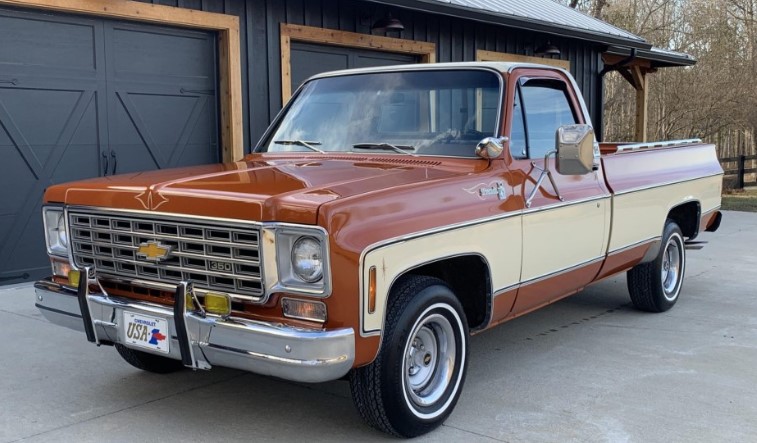 What Year C10 is the Most Popular?
The most popular year for the Chevrolet C10 truck is 1967. This was the first year of production for the C10, and it remains a favorite among collectors and enthusiasts. The 1967 model features a more rounded body style than the later models, making it unique and sought-after.

It is also powered by a powerful V8 engine, making it a great choice for those who want to use their truck for work or play.
What Does the C Stand for in C10 Chevy Truck?
The C10 is a Chevy truck that was produced from 1960 to 1998. The "C" in C10 stands for the second-generation of Chevy trucks (the first generation being the APACHE). The 10 signifies the 8-cylinder engine size.
Junkyard Seat Tracks & Seat Risers to Install Bucket Seats in Your Old Truck! Chevy C10 – GMC 1500
Conclusion
In conclusion, selecting the right bucket seats for your Chevrolet C10 is a significant decision in enhancing both the aesthetics and comfort of your classic truck. We've explored the various factors to consider, from seat dimensions to materials, styles, and compatibility.
With our ultimate guide, you're now equipped with the knowledge needed to make an informed choice that aligns with your vision for your C10. Remember to measure twice, shop wisely, and prioritize your preferences and needs.
The perfect bucket seats are out there, waiting to elevate your driving experience and the overall allure of your cherished C10.
So, go ahead, take the driver's seat in transforming your classic pickup into a head-turning masterpiece, and enjoy the ride!