Did you know that car seat laws vary from state to state? If you're planning on driving with your kids in North Carolina, it's essential to familiarize yourself with the specific requirements. In this blog post, we'll outline everything you need to know about car seat laws in North Carolina. Keep reading to keep your family safe on the road!
Why are Car Seat Laws Important?
Car seat laws exist for one reason: to protect children in a car accident. When used correctly, car seats can save lives and prevent serious injuries. According to the Centers for Disease Control and Prevention (CDC), "properly used child safety seats can reduce the risk of death by as much as 71%." Following these laws is essential if you want to keep your kids safe on the road.
What are the specific NC car seat safety laws?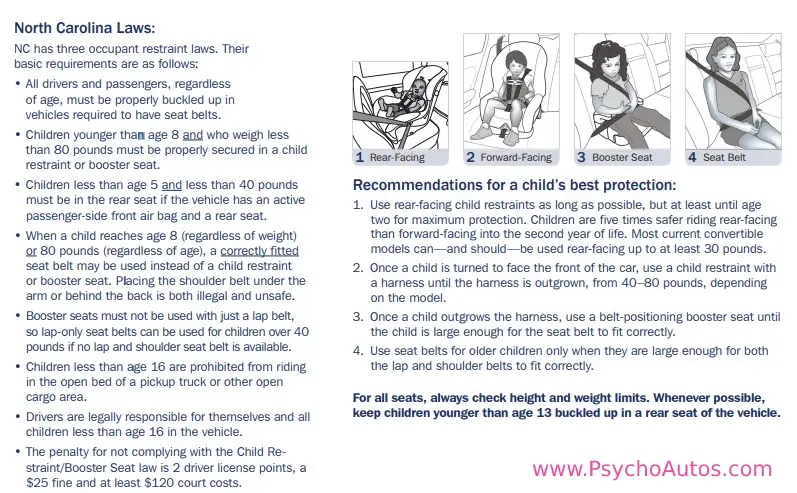 In North Carolina, all children younger than 8 years old must be restrained in a child passenger safety seat or booster seat when riding in a motor vehicle if they weigh less than 80 pounds.
If a child is 4′9″ or taller they may use an adult lap/shoulder belt instead of a booster seat.
Children under 5 years old who weigh less than 40 pounds must use a rear-facing seat in a passenger seat in a vehicle.
Note:

1. Children under 16 years are strongly prohibited riding in the front seat or open bed of a pickup/truck and open cargo.
2. All drivers are responsible to ensure that all passengers under 16 follow the rules.
How can You Ensure Your Child is Properly Buckled Into Their Car Seat?
Now that you know the specific requirements for car seats in North Carolina, it's time to learn how to properly buckle your child in. The best way to ensure a proper fit is to consult your car seat's user manual. Every seat is different, so it's important to read the instructions carefully and follow them step-by-step.
In general, though, you'll want to make sure the straps are snug against your child's body and that the chest clip is at armpit level. Once you've secured your child in their seat, give it a good tug to make sure everything is tight and snug.
What Happen If You're Pulled Over for Not Following The Car Seat Law?
If you're stopped for not following the car seat law, the officer will likely issue you a warning. However, they may also choose to give you a ticket with a fine of $25. To avoid pull over make sure you're familiar with all of North Carolina's car seat laws and following them correctly every time.
Here are some common mistakes parents make when choosing and installing car seats:
Using an incorrect car seat – remember to always consult your owner's manual as well as the labels on your particular model of the car seat to check weight limits and other restrictions.
Not reading/misreading the instructions- whether you just bought a new car seat or have had one collecting dust in storage since your last baby was born, take time to really read through the manufacturer's instructions before using it.
Not securing the seat tight enough- A properly installed car seat should not move more than an inch side-to-side or front-to-back at the belt path; if it does, try adjusting and tightening the straps until it passes this test.
Using aftermarket products – Using unapproved items could result in injury or even invalidate your car seat's warranty.
Wrong Placement of harness straps – Placing harness straps behind a baby's back or underneath their arms instead of over both shoulders – can be very dangerous as it decreases the protection level of the harnesses provided during a crash. The chest clip should be placed at armpit level, and you should never be able to fit more than two fingers between your child and the strap material
Incorrect positioning for infants – Remember that rear-facing babies need to have their legs bent at a 90-degree angle with enough space to wiggle; forward-facing toddlers and preschoolers need to be positioned so that their knees bend comfortably at the edge of their seats while still being able to see out all windows.
Remember, car seats save lives—so take the time to do it right!
NC DMV rules of the road
The North Carolina DMV has compiled a list of rules that every driver should know. Some are specific to North Carolina, while others are general driving laws that apply everywhere. Here are some highlights: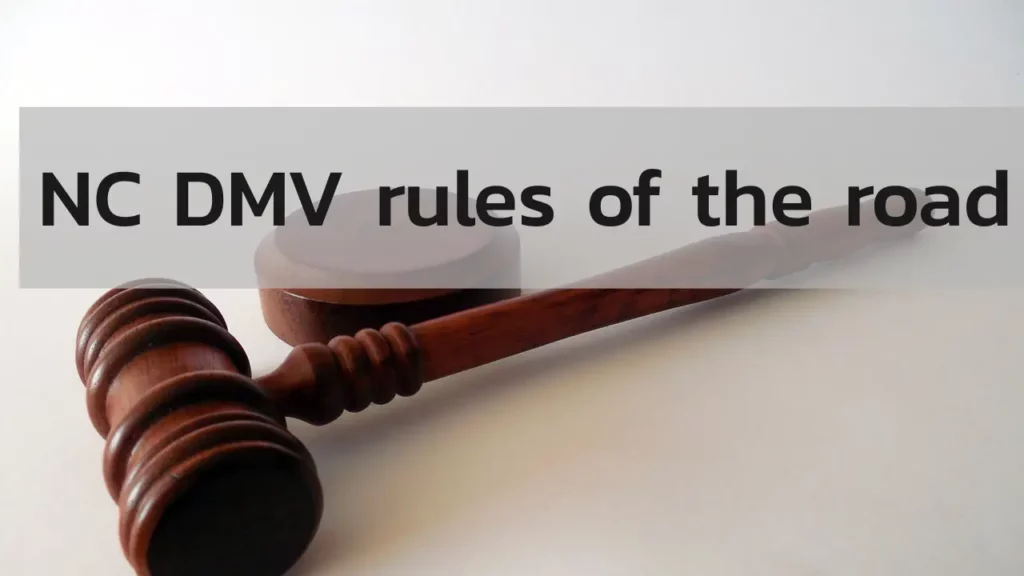 Every driver must have a valid license when operating a motor vehicle on public roads.
Drivers under 18 years old must adhere to NC's Graduated License Program, which includes restrictions on night driving and passenger limits.
All drivers must obey posted speed limits and drive according to conditions (e.g., slower in rain or snow).
It is illegal to text while driving in North Carolina. This includes reading, writing, sending, receiving any pictures or videos.
Drivers must yield the right-of-way to pedestrians at crosswalks and intersections, and should use extra caution around bicyclists and motorcycle riders.
All motor vehicles must have valid registration and insurance.
Following these and other DMV rules of the road will help keep everyone safe on North Carolina's highways.
People Also Looking for these Questions:
What is NC rear-facing car seat law?
For infants and toddlers (under 40 pounds), you must use a rear-facing car seat with harness straps. Once your child reaches the maximum weight or height (you'll find this information on the labels and in the owner's manual) they can ride in a forward-facing car seat.
What is the legal age to ride in front seat in North Carolina?
The legal age to ride in the front seat of a car in North Carolina is 16 years old. If you are under the age of 16, you must be seated in the back seat behind the driver. All occupants of a vehicle must wear their seat belts at all times while the vehicle is on the road.
The booster seat law changing in January for North Carolina
In January 2020 the booster seat law are changed in North Carolina. All children under 8 years old who weigh less than 80 pounds or are shorter than 4'9″ must be secured in a booster seat while riding in a motor vehicle.
This law is also called 8 and 80 NC front seat law after applied. However, the previous law only required that children under the age of five use a booster seat.
What are forward-facing car seat laws in North Carolina?
There is no federal law mandating which direction a child's car seat must face, but most states, including North Carolina, have laws specifying that young children must ride in a rear-facing car seat. The thinking behind this requirement is that it's much safer for young kids to be facing the back of the car during a crash since they're less likely to be seriously injured than if they were facing forward.
Most experts recommend keeping your child rear-facing until he or she reaches at least 2 years old, and some even suggest keeping them rear-facing until age 4. So if you're planning on traveling with your young child in North Carolina (or any other state with similar laws), make sure their car seat is installed correctly and facing the correct direction.
Conclusion
Obeying car seat laws is one of the best ways to keep your children safe when traveling by car. In North Carolina, all children under the age of 8 must be restrained in a child passenger safety seat or booster seat.
There are some exceptions to this rule, but it's always better to err on the side of caution. If you're ever unsure about how to properly secure your child in their car seat, consult the user manual or ask a professional for help.
By following these simple tips, you can ensure a safe and enjoyable trip for everyone involved.