The BMW 1 Series parking sensors may not be working due to a faulty sensor or wiring issues. To resolve this issue, it is recommended to have the parking sensors inspected and possibly replaced by a qualified mechanic.
Introducing the BMW 1 Series parking sensors not working problem: One of the convenient features of the BMW 1 Series is its parking sensors, which help drivers safely navigate tight parking spaces. However, if the parking sensors stop working, it can be quite a nuisance and potentially lead to accidental damages.
This issue can be caused by a faulty sensor or problems with the wiring. To ensure accurate and effective functioning of the parking sensors, it is important to diagnose the problem and seek the assistance of a professional mechanic. We will discuss the possible causes and solutions for BMW 1 Series parking sensors not working.
Understanding The Functionality Of Parking Sensors
Parking sensors are an essential feature in the BMW 1 Series, but if they are not working properly, it can pose a challenge for drivers. Understanding the functionality of these sensors is crucial to ensure they accurately detect obstacles and provide the necessary assistance for safe parking.
Have you ever wished for an extra pair of eyes while parking your BMW 1 Series? Well, that's exactly what parking sensors are designed to do! These innovative sensors are equipped with cutting-edge technology that helps drivers navigate tight spaces with ease.
In this section, we will delve into the functionality of parking sensors, explore the different types available, and highlight the importance of these sensors in enhancing driver safety and convenience.
How Do Parking Sensors Work In Bmw 1 Series?
Parking sensors in the BMW 1 Series operate using ultrasonic technology. Here's a breakdown of how they work:
Emitting ultrasonic waves: The parking sensors emit ultrasonic waves, which bounce off obstacles in the vicinity of your vehicle.
Receiving the waves: Once the waves hit an obstacle, they are picked up by the sensors.
Calculating the distance: The time it takes for the waves to bounce back to the sensors is measured, allowing the system to calculate the distance between your car and the obstacle.
Visual and audible alerts: Based on the calculated distance, the parking sensors provide visual and audible alerts to the driver, indicating the proximity of the obstacle.
Exploring The Different Types Of Parking Sensors
There are primarily two types of parking sensors used in the BMW 1 Series:
Rear parking sensors: These sensors are positioned at the rear of the vehicle, enabling you to detect obstacles behind you while reversing.
Front parking sensors: Positioned at the front of the vehicle, these sensors detect obstacles in front of your car, assisting you in maneuvering into tight parking spaces.
Importance Of Parking Sensors In Enhancing Driver Safety And Convenience
Parking sensors play a crucial role in improving driver safety and convenience. Here are some key reasons why they are highly valued:
Preventing accidents: By providing real-time alerts, parking sensors help to prevent collisions with obstacles such as walls, curbs, or other vehicles, effectively reducing the risk of accidents.
Avoiding property damage: With parking sensors, drivers can avoid damaging their vehicle, as well as any surrounding objects, during parking maneuvers.
Enhancing maneuverability: Parking sensors assist drivers in navigating challenging parking scenarios, enabling them to park accurately and with confidence.
Time-saving: By eliminating the need for repetitive parking attempts, parking sensors save valuable time, especially in busy urban areas.
Parking sensors are a valuable tool in the BMW 1 Series, allowing drivers to park with precision and confidence. Understanding their functionality, exploring the different types available, and recognizing their importance in enhancing driver safety and convenience, can help you make the most of these innovative technological features.
So, next time you park your BMW 1 Series, relax and let the parking sensors guide you!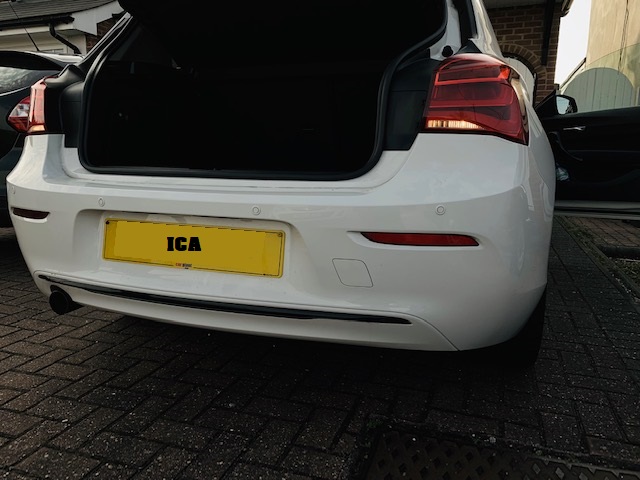 Credit: www.in-car-advancements.co.uk
Troubleshooting Bmw 1 Series Parking Sensors
Troubleshooting BMW 1 Series parking sensor issues? Discover fixes for non-functioning sensors on your BMW 1 Series to ensure a hassle-free parking experience.
Identifying Common Signs Of Parking Sensor Malfunction
The parking sensor system fails to provide audible or visual warnings when objects are detected nearby.
The parking sensor indicator light on the dashboard remains off or shows a constant warning.
False alarms are triggered frequently, even when there are no obstacles around the vehicle.
The parking sensor system is completely unresponsive, with no indication of any functionality.
Possible Causes Behind Parking Sensor Failures
Dirt, debris, or ice buildup on the surface of the sensors, obstructing their ability to detect objects accurately.
Damage to the sensors due to impacts or wear and tear over time.
Faulty electrical connections or wiring issues, leading to poor communication between the sensors and the vehicle's control unit.
Software glitches or compatibility issues with the parking sensor system.
Recommended Diagnostic Steps For Resolving Parking Sensor Issues
Checking sensor connections and wiring:
Inspect the sensor wiring for any signs of damage or loose connections.
Ensure all sensor connections are securely plugged in.
Clean any dirt or debris around the sensor connections.
Verifying sensor functionality with diagnostic tools:
Use a diagnostic scan tool specifically designed for BMW vehicles to test the parking sensor system.
Follow the manufacturer's instructions to perform a complete sensor test.
Monitor the scan tool for any error codes or anomalies that could indicate sensor malfunctions.
Inspecting and cleaning sensors:
Carefully examine each sensor for physical damage or any signs of obstruction.
Use a soft cloth or sponge to clean the sensor surface from any dirt, ice, or debris.
Avoid using abrasive materials that could damage the sensors.
Resetting the parking sensor system:
Consult the vehicle's owner manual for instructions on how to reset the parking sensor system.
Follow the prescribed steps to perform a complete system reset.
Test the sensors again after the reset to ensure proper functionality.
Remember that troubleshooting and resolving parking sensor issues may require advanced knowledge and expertise. If you are unsure about any step or encounter difficulties during the diagnostic process, it's recommended to seek professional assistance from a qualified technician or BMW service center.
Resolving Parking Sensor Problems In Bmw 1 Series
Having trouble with the parking sensors on your BMW 1 Series? We offer effective solutions to fix this issue, ensuring smooth and accurate sensor functionality. Experience worry-free parking with our expert assistance.
The BMW 1 Series is renowned for its sleek design, powerful performance, and advanced features. However, like any vehicle, it can experience technical issues from time to time. One common problem that BMW 1 Series owners may encounter is parking sensor malfunctions.
If you find yourself in a situation where your parking sensors are not working correctly, there are several steps you can take to resolve the issue. In this section, we will discuss the most effective ways to address parking sensor problems in your BMW 1 Series.
Resetting The Parking Sensor System
To begin troubleshooting, you can try resetting the parking sensor system in your BMW 1 Series. This can be done by following these steps:
Locate the parking sensor control module, usually located under the rear bumper or behind the trim panel.
Disconnect the sensor module by removing the wiring connector.
Wait for a few minutes before reconnecting the wiring connector.
Start your vehicle and test the parking sensors to see if the issue has been resolved.
Resetting the parking sensor system can often resolve minor glitches and restore the functionality of the sensors.
Replacing Faulty Parking Sensors
If resetting the parking sensor system does not fix the issue, it may be necessary to replace faulty parking sensors. Here are the steps you can take to replace a faulty parking sensor in your BMW 1 Series:
Identify the faulty sensor by observing any physical damage, such as cracks or chips.
Purchase a compatible replacement sensor from a trusted source.
Locate the faulty sensor, which is typically situated on the front or rear bumper.
Carefully remove the faulty sensor by unscrewing it from its housing.
Insert the new sensor into the housing and secure it by tightening the screws.
Reconnect the wiring connector to the new sensor.
Test the newly installed sensor to ensure it is functioning correctly.
Replacing faulty parking sensors can often resolve more severe issues and restore the proper functioning of the parking sensor system.
Programming And Calibrating New Parking Sensors
Once you have replaced a faulty parking sensor, it is crucial to program and calibrate it to ensure optimal performance. Here's how you can program and calibrate new parking sensors in your BMW 1 Series:
Consult your vehicle's owner manual or contact a professional for detailed instructions on programming and calibrating the sensors.
Follow the recommended steps to program the new sensors to your vehicle's system.
Calibrate the sensors according to the manufacturer's specifications to ensure accurate distance measurements.
Test the newly programmed and calibrated sensors to verify their functionality.
Proper programming and calibration of new parking sensors are essential to ensure precise and reliable detection of obstacles.
Seeking Professional Assistance For Complex Repairs
In some cases, parking sensor issues in BMW 1 Series vehicles may be too complex to handle on your own. When faced with intricate repairs or persistent problems, it is advisable to seek professional assistance. A qualified technician with experience in BMW vehicles will have the knowledge and expertise to diagnose and resolve complex parking sensor issues efficiently.
Remember, addressing parking sensor problems requires careful troubleshooting and sometimes the replacement of faulty components. By following these steps, you can increase the chances of resolving parking sensor issues in your BMW 1 Series, ensuring a safe and hassle-free driving experience.
Frequently Asked Questions On Bmw 1 Series Parking Sensors Not Working
What Causes Parking Sensors To Stop Working?
Parking sensors can stop working due to electrical issues, sensor damage, or interference from other electronic devices.
How Do You Reset Parking Sensors?
To reset parking sensors, follow these simple steps: locate the reset button, press and hold it for a few seconds, then release.
How Much Does It Cost To Fix Bmw Parking Sensors?
The cost to repair BMW parking sensors varies, but it can range from $200 to $500.
How Do You Turn On Parking Sensors On A Bmw?
To turn on parking sensors on a BMW, locate the "P" button on the dashboard, press it, and wait for the system to activate.
Conclusion
If your BMW 1 Series parking sensors are not working, it is important to address the issue promptly. The parking sensors play a crucial role in ensuring your safety and avoiding accidents. Start by checking the sensors for any physical damage or dirt that may be obstructing their function.
Clean them carefully and see if that resolves the problem. If not, it may be necessary to consult a professional technician who can diagnose and repair any underlying issues with the sensors. Remember, regular maintenance and inspection can help prevent problems with your parking sensors in the future.
By addressing the problem promptly, you can ensure a smooth and safe parking experience with your BMW 1 Series.